It can be difficult to keep up with social platform updates. Especially when it feels like there's a new update being pushed live each week. These updates come as no surprise, given the competitive nature of social media. However, the sheer number of new features might be overwhelming for marketers. We are here to help. Instagram, like most other current social media platforms, is packed with features and is continuously evolving to keep up with the social media landscape. Let's take a look at the latest additions to the platform!
Instagram's key features
NFTs on Instagram
Instagram has just unveiled a new feature that allows non-fungible tokens (NFTs) creators and collectors to showcase their creations on the platform. This is a significant step forward for the creative economy. Why? It is, after all, directly encouraging creators to profit from their work. There are various Instagram monetisation methods now, but the NFT community and collectors or developers of these unique digital tokens is a very interesting niche.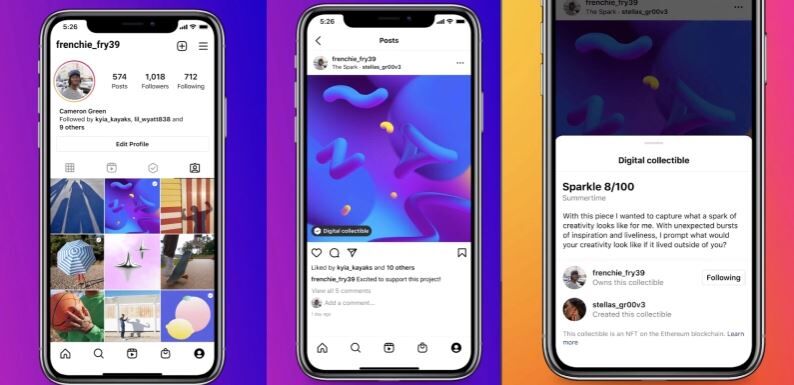 Image Source
Instagram revealed a simple way for consumers to share NFTs they bought in stories, chats, or feed to join the NFT community. Instagram is a centralised platform with the goal of learning from the community and better understand the new decentralised web 3.0.
Instagram badges for live videos
Instagram rolled out Badges for Live to all eligible creators. Badges are an option for creators to earn more money from their followers. They work very simply. During a live video, viewers can click an icon and buy badges to support the creator's work. The badges are displayed as hearts next to the username of the person who purchased the badges.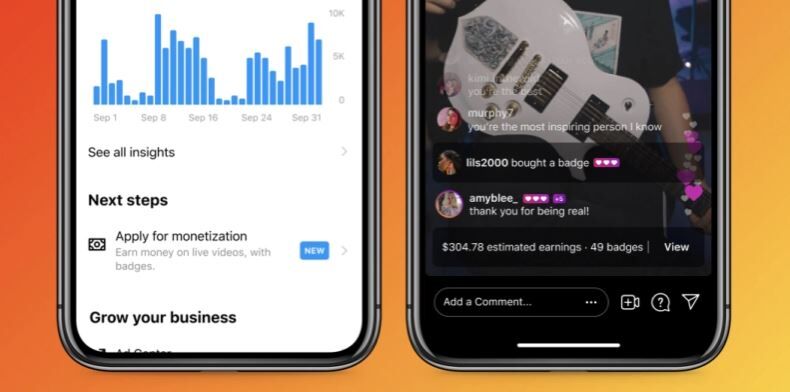 Image Source 
After the Live, creators can check more information about the badge count in their personal dashboard.
Delete a specific photo in a carousel
This option is particularly useful if you have a carousel of photographs and only want to delete one or two of them rather than the entire post. Instagram has a new option for iOS users to do this, and the processes are relatively straightforward:
Go to the post on the carousel that you wish to change.
Select Edit from the top-right dots icon.
Look through the photographs to see which ones you want to get rid of.
Select Delete from the menu.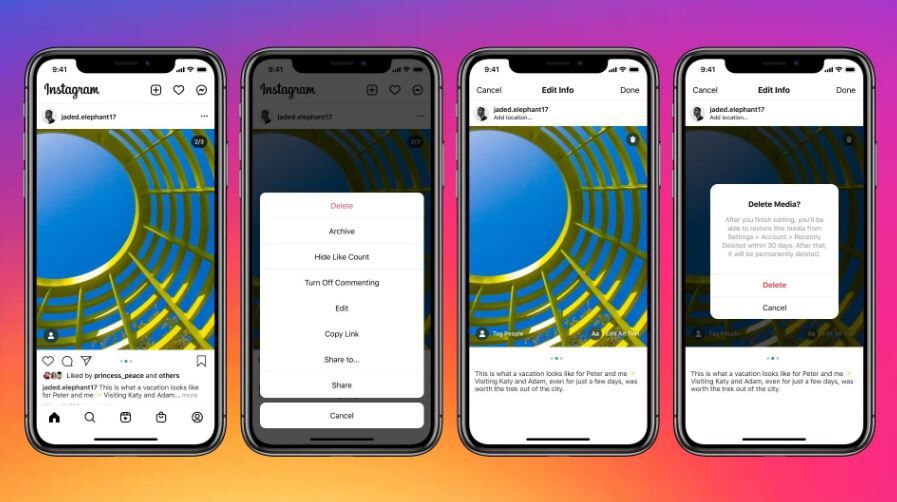 Image Source
By heading to Settings > Account > Recently Deleted, you have 30 days to restore the deleted photo.
New safety features
Instagram is finally introducing more significant safety features for teenagers. Here is what's new:
Take a break: A feature that reminds users who have been browsing for a long time to stop, reset, and think about something else.
Your activity: A dedicated location for managing all Instagram activities. The option to bulk erase all outdated content and control what is accessible publicly on users' profiles is the most crucial.
Parental controls: The first tools for parents and guardians, on Instagram. Parents will be able to establish time limits for their children's use of Instagram, as well as receive notifications when their children report someone, allowing them to continue the discourse about the matter.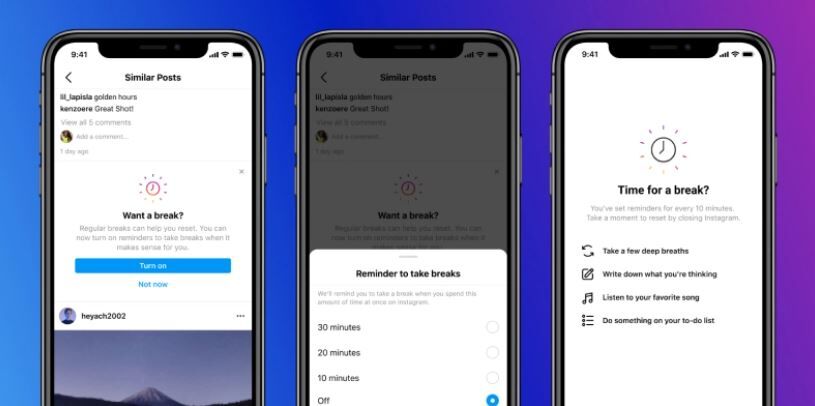 Image Source 
These more serious features aim to help teens utilise the platform more safely.
Customise link sticker in Instagram stories
Link Stickers, the ability to add links to Instagram stories, were recently added by Instagram and are now available to all users – not only those with more than 10,000 followers, as was previously the case.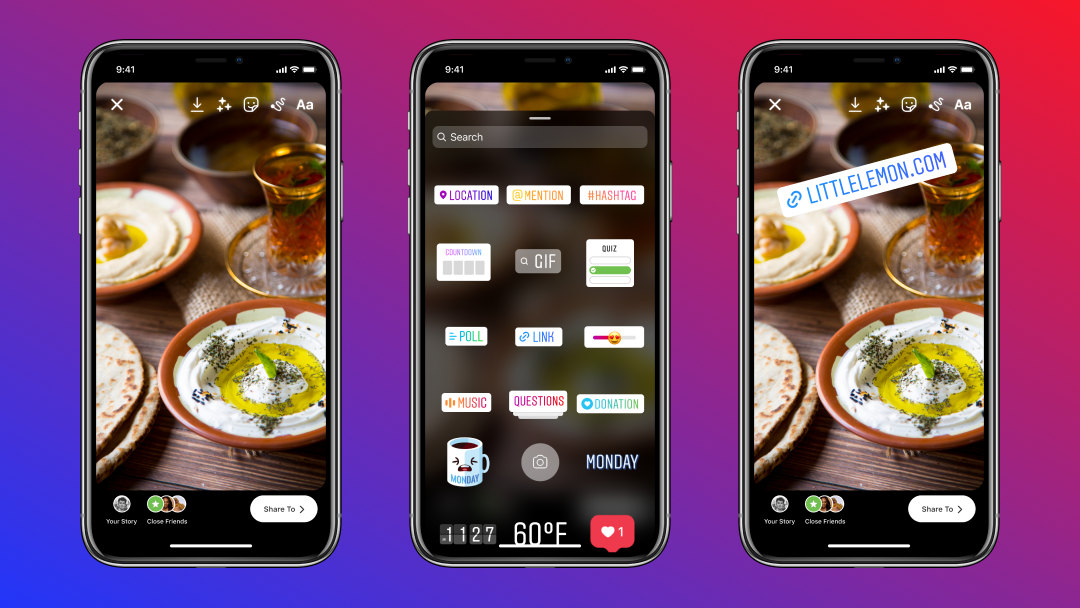 Image Source
This option is straightforward, as it displays a sticker, that when tapped, opens an external link. This feature has now been enhanced with new customisation options for the link label text.
Tip: To generate more clicks, try utilising your sticker with a strong call to action. Such as "Sign up to our newsletter!" or "Download our free toolkit."
The new option displays as a customisable sticker text linked than you are able to click to enter your custom call-to-action.
Chronological order of the feed
Instagram is new experimenting with a chronological feed. The CEO of Instagram added three new options: Home, Favourites, and Following so that every Instagram user can pick how they want their posts to appear in their home page (two of which will show posts in chronological order).
Home: Will function normally and provide the same user experience as before (post ordering is determined by an algorithm). Essentially, this algorithm prioritises content based on how engaged it believes the user will be for the most of their time.
Favourites: Will display posts from accounts that users have designated as their favourite accounts.
Following: The following option will be a chronological list of the accounts the user follows, which is similar to how other social networking apps sort their postings.
Scheduling live in Instagram profile
Instagram has had the option of going live for some time. Users may now isolate their Live from their posts or Stories and schedule it on their profile with this new add-on. Profiles will receive a badge with information from the live schedule to make this functionality more visible. Additionally, their followers will be able to opt in to receive an alert when the Live is accessible.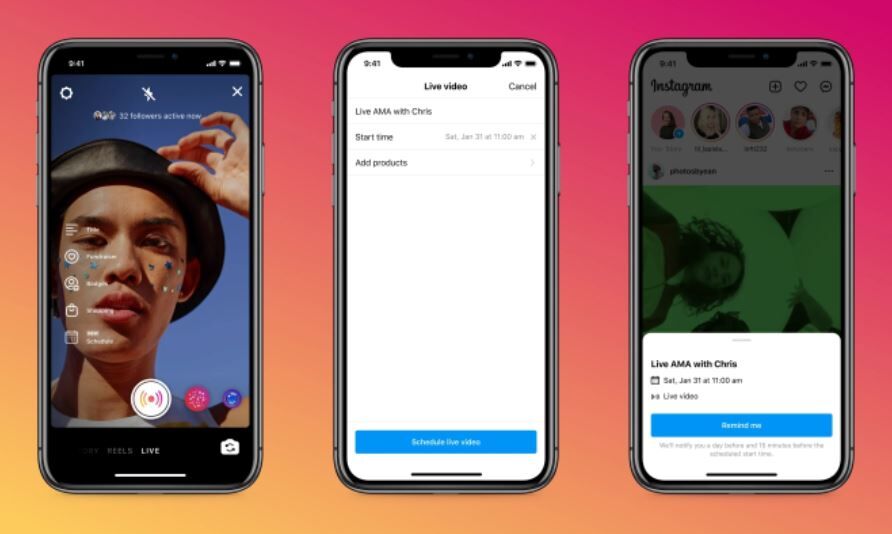 Image Source 
Instagram avatars
Finally, Meta released the long-awaited 3D avatars. 3D avatars, as opposed to static social media profiles, are a new visual representation of users' more dynamic identities. The avatars are designed to be created on the Instagram, Facebook, or Messenger apps. Even so, it can transport them across the Metaverse with all of your digital things, including clothes, collectibles, and bags.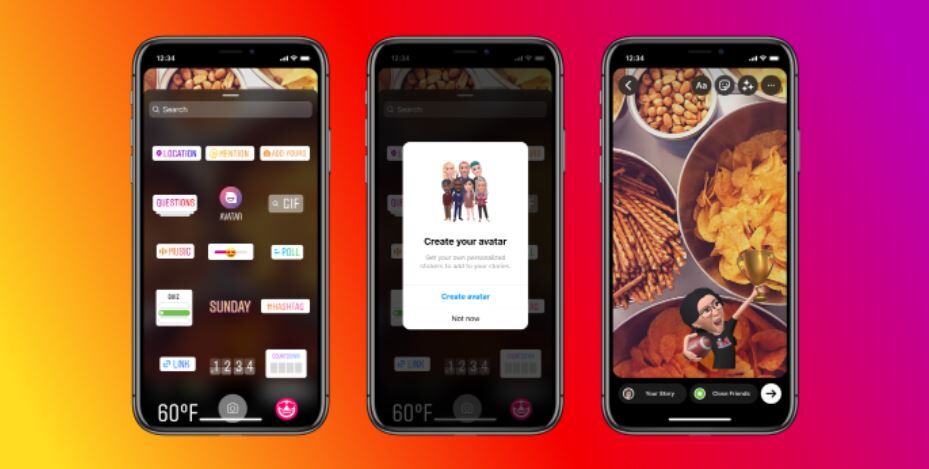 Image Source 
To begin, follow the thorough instructions for creating your 3D avatar.
Enhanced tagging feature
Enhanced tags are a new Instagram feature that allows you to tag all of the contributors and collaborators in your post. This means you may now offer credit to everyone who worked behind the scenes. Makeup artists, photographers, and designers can be tagged in your post to help them get recognised as creators and find new opportunities.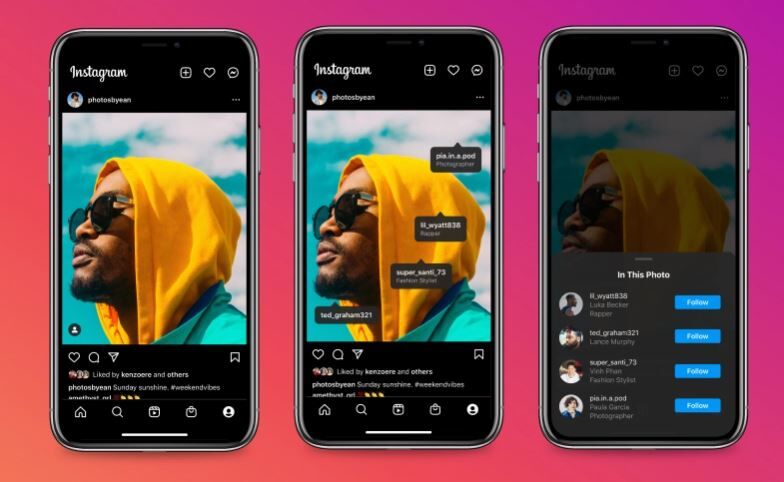 Image Source
New message features
Instagram declared earlier this year that messaging would become a more important tool in making the network more interesting for its users. A few more hidden gems to improve communications have been added to Instagram's latest updates. Read our Instagram introduces New Messaging Features blog to find out more.
New hashtag experience
Instagram has introduced additional hashtag options for users to promote, fundraise, and spread the news about important social causes. What's new is this: Instagram determines whether hashtags are useful and represent a real cause in collaboration with relevant groups. Furthermore, each hashtag has its own destination, such as a dedicated hashtag page where users may start a fundraiser or share something with their network.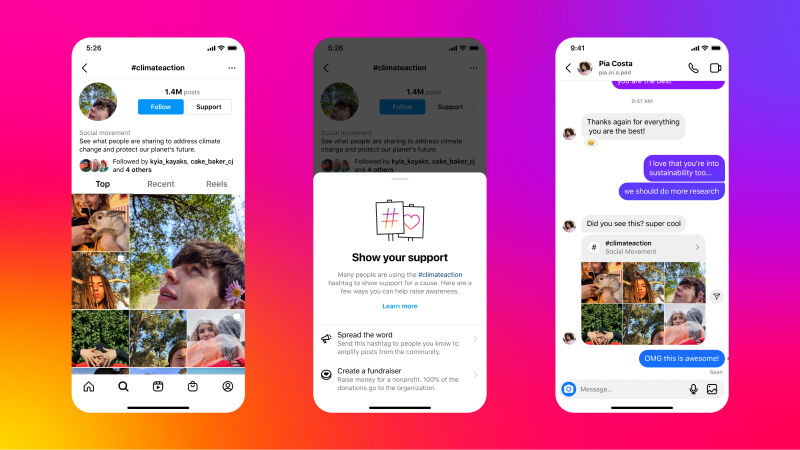 Image Source
This means you'll be able to search for hashtags like #digitalmarketingevents and #smallbusinessappsandtools and be directed to their own pages.
Updated editing tools for Reels
Instagram just improved the editing tools for one of their most popular products – Instagram Reels – in case you missed it. This update should make trimming and rearranging video clips in the Reels composer a lot easier. With just a few touches, you can now reorder, delete, and trim each of your clips. How does it work?
Open Reels camera in your Instagram app.
Make a new video or upload one form your gallery.
Proceed to preview video clips and click edit video in the lower left corner.
To enter reorder mode, touch the reorder button and drag and drop your clips to delete or reorder them.
You can add more clips if you want by hitting the more clips button.
Post your Reel after you've finished editing!
Product tagging in Instagram feed
Instagram stated on April 18th, 2022 that the product tagging tool is now available to anyone in the United States. Previously only creators and companies could use this tool, but now anybody can use it to tag things on their feed. Users will be able to tag a brand and then specify a product on their published feed posts with this upgrade. People who tap on the product tag will view detailed product information. They can also buy the item right from the app or from the brand's product detail page.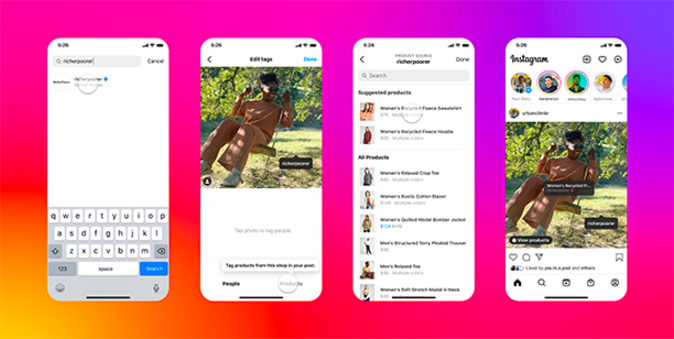 Image Source 
Product tagging is currently only accessible for feed posts; however Instagram is working on making it available for stories in the near future.
Immersive experience in the home feed
Instagram's CEO said that the company is developing a more immersive experience in the app's primary Home feed. This means that video will take up more space and become a larger component of the feed. Both photographs and movies will fill more of your screen — the format will be taller. The purpose of these feed adjustments is to figure out how users want to interact on mobile and whether the 9:16 format is better for a mobile-first experience. When we compare it to TikTok, we can see that they are already full-screen by default, therefore this move could be due to the competition.
Instagram tagged posts
Users can tag your Instagram profile and everything that you have been tagged in will appear under the tagged icon on your profile. The tagged icon is also a brilliant place for collecting user-generated content (UGC) and having the content here will also boost your social proof. As a result, make sure you encourage your customers to create user-generated content.
Instagram filters
An Instagram filter is a feature within the social media platform that allows you to edit your photo with a single click by adding pre-set edits to the image that Instagram created for you. While Instagram filtering appears to be simple and enjoyable, it's vital not to overdo it, especially for businesses that use their feed to convert followers into customers. Consider the three rules below to help keep your filter game in line with your business.
Be consistent.

Do not "over-filter" your photos.

Ensure your Instagram filter choices stay on brand.
Instagram video
Instagram has invested extensively in short-form and live stream video, from Reels to Stories to Live. Instagram has announced that its long-form video platform, IGTV, will be phased out in the near future. Since then, IGTV videos have been integrated with feed videos, and they now appear on a single tab in your Instagram profile. All accounts now have the ability to create longer feed videos of up to 60 minutes. That means you'll have even more room to experiment with long-form video, as well as a dedicated tab. Long-form video may become even more worthwhile to invest resources in as tapping on videos will soon trigger full-screen viewing and scrolling. For more in-depth pieces of content, try experimenting with lengthier Reels and in-feed videos, to see how your audience reacts. Longer videos are great for providing even more value!
Partnership inbox
Gone are the days of missing out on opportunities due to a clogged inbox. Now, businesses and creators can easily identify and manage their collaboration messages in one place. The Direct Messages tab has a sub-folder called Partnership Messages. These communications bypass the request folder and are routed to the front of the queue, making it easier than ever to locate and manage branded content relationships.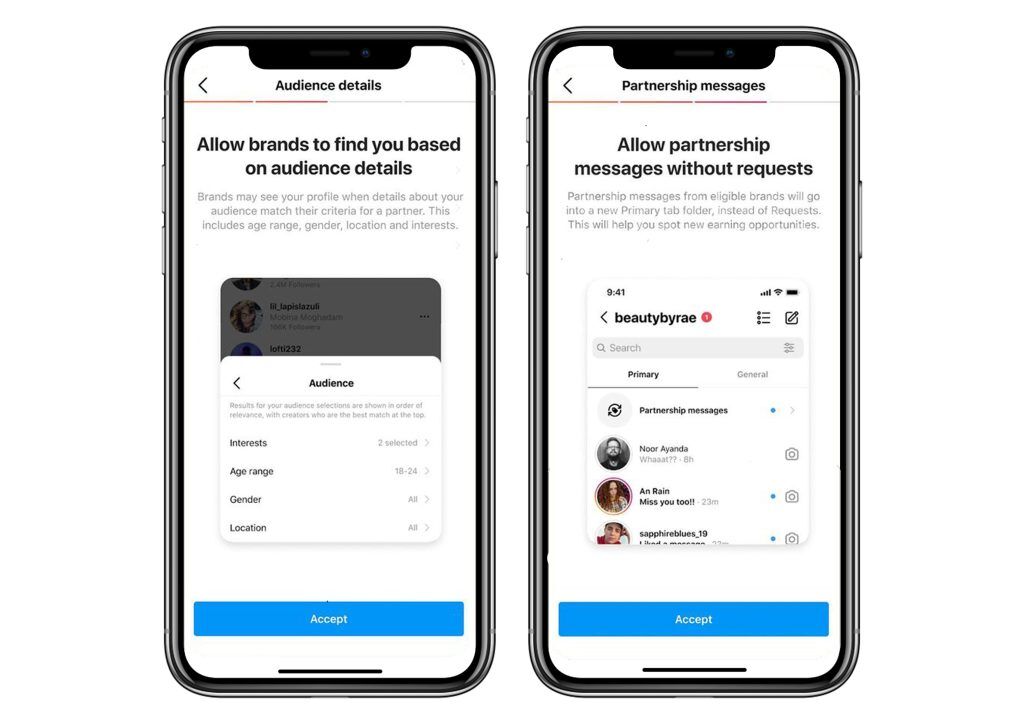 Image Source
Story links
Remember when Instagram Story links were only available to individuals with 10,000 or more followers? It's now open to the public. A link sticker can be used to drive readers to your website, product pages, blog posts, and more, regardless of how many followers you have. Marketers who use the platform to boost traffic would benefit from this. Here's how it works: when you've created an Instagram story, go to the sticker icon, and select the link sticker. Enter the desired URL from here, and there you have it, you've got a link in your article.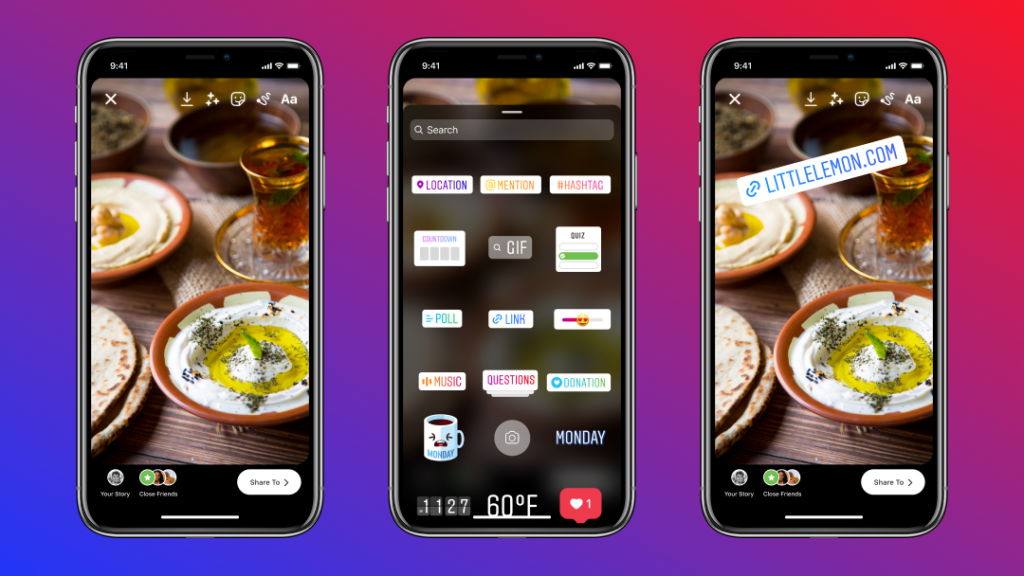 Image Source
Find creators
Instagram has taken on the role of matchmaker. A new set of tools are being tested on the platform to help brands and creators connect. Let's start with the creators: users can create a favoured brand list and add brands to it. When a brand is looking for creators to collaborate with, individuals that have the brand on their list will show up first in the search results. This makes it simpler for brands to locate creators who have already expressed an interest. Instagram claims that brands will be able to filter creators by follower count, age, gender, and location, which will enable them to "arrange shortlists to efficiently manage various campaigns."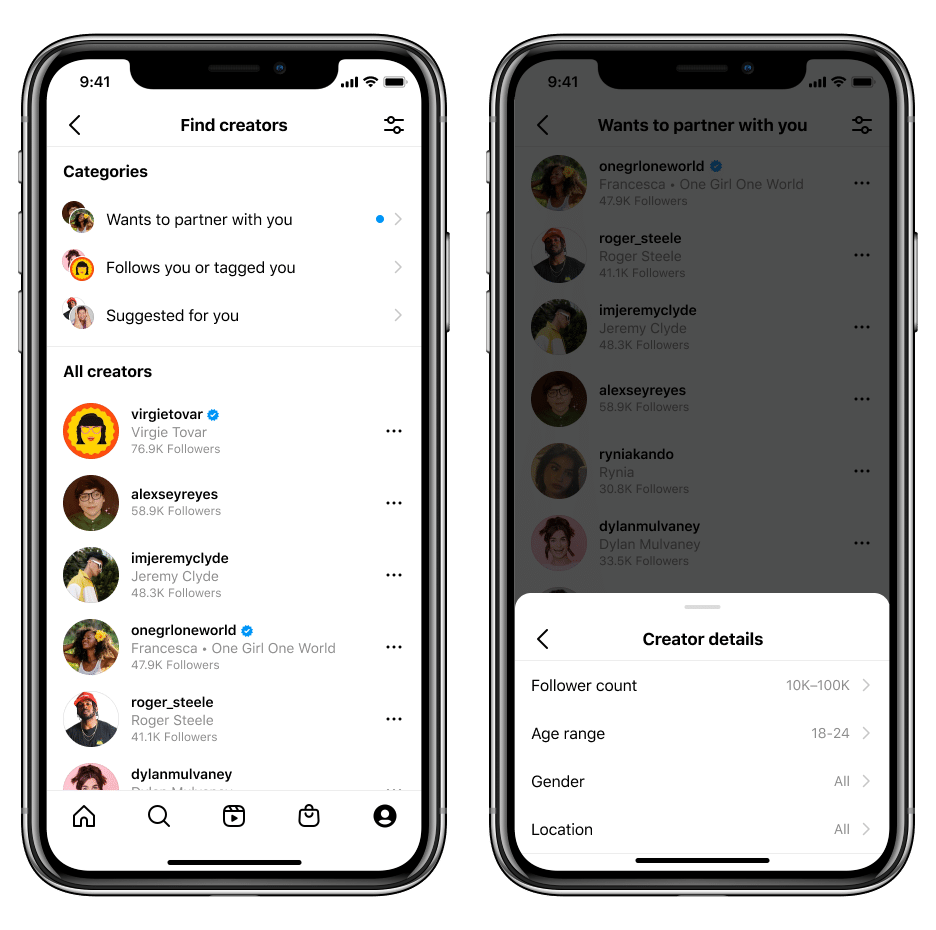 Image Source
Add yours
You've probably noticed this feature while scrolling through Instagram stories, but how does it work? Add Yours is a new Instagram story sticker. It's really straightforward:  someone creates a prompt and adds it to their story. Others can then add their own spin to the prompt. You can see everyone who has contributed to the thread by clicking on the sticker. If you make an Add Yours sticker with the suggestion "Outfit of the Day" for example, other users can respond with a photo or video of their own outfit. This feature gives the platform a new level of involvement. It is known to kickstart trends and difficulties due to its share ability. But it's very effective for marketers in terms of starting discussions.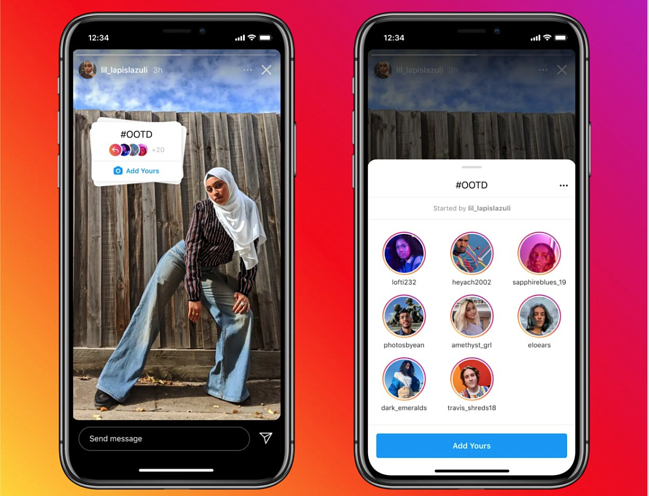 Image Source 
Social fundraising
Instagram created a new social fundraising function in response to the economic impact of COVID-19. Users can set up fundraisers for their company or a cause that they care about. Instagram has experienced "a large wave of digital activism responding to the global conversation around racial justice" according to the company. This feature reflects a simple truth about today's consumers: they are motivated by their beliefs. Consumers nowadays are seeking brands that actively make a statement on subjects that are important to them. It's now easier than ever to organise fundraisers for such causes straight on Instagram. Keep in mind that all fundraisers are subjected to scrutiny. You're ready to start raising money after you've been approved.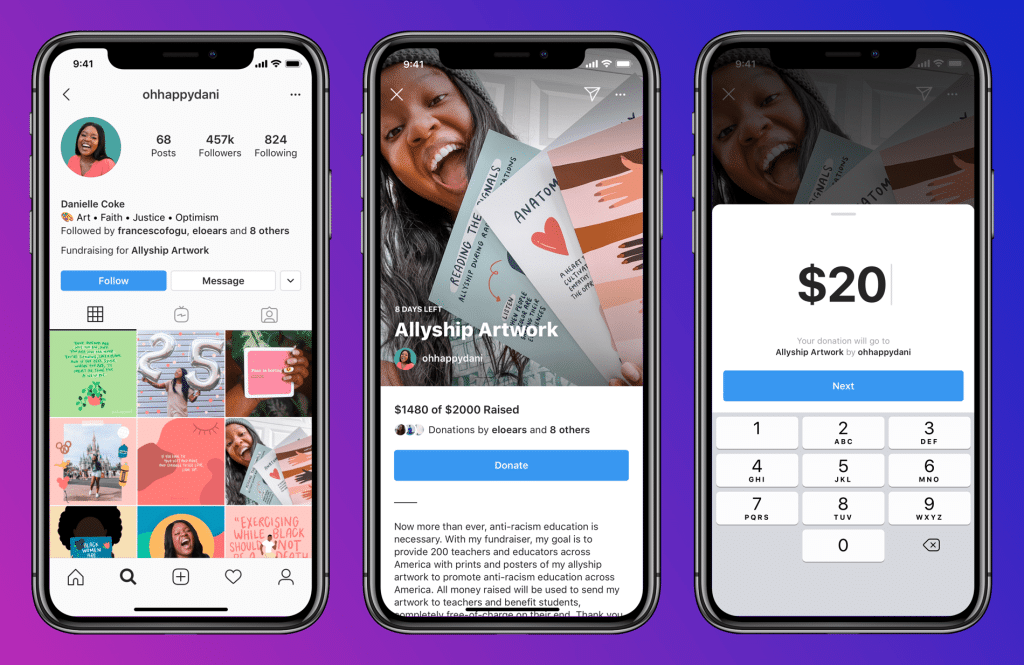 Image Source
Story auto-captions
Most people don't watch Instagram stories with audio very often, which is why the new caption sticker is such a game-changer. This feature converts what is said in a video into text so that people can watch it without sound. This feature is also accessible on Reels, the company's response to TikTok, for some users. Audiences can now interact with your videos, whether or not they have sound. This feature also contributes significantly to the accessibility of Instagram content.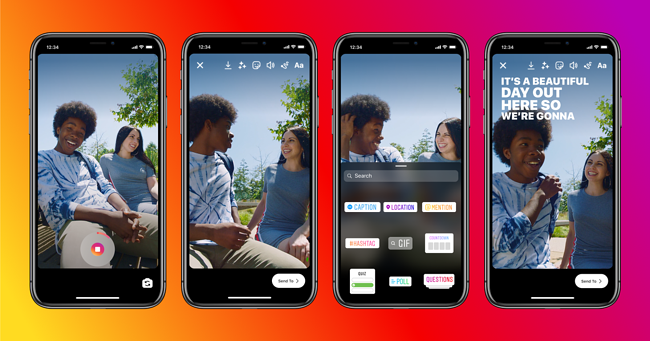 Image Source 
Collaborations
Instagram is now testing a new feature that allows you to co-author content with another Instagram user, which means that whatever you post will display on both of your accounts. On these posts, you can share likes, comments, and view counts. For brands, the collabs tool provides a new method to collaborate with influencers, raise brand recognition, and meaningfully engage with another community.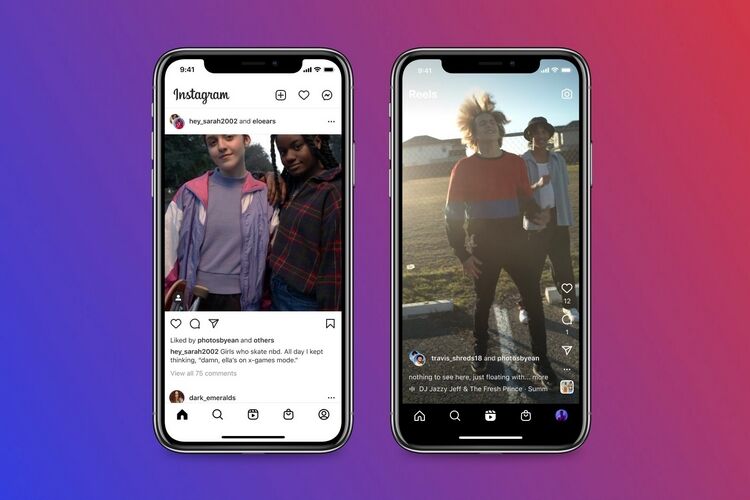 Image Source 
Calendar tool
If you have an Instagram Business Account, there's some good news: Instagram is intending to increase the data tracking time in Instagram Insights from 30 to 60 days. Third-party apps that enable a longer tracking period can finally be ditched by social media marketers. Instead, insights will make this information publicly available. This is an excellent example of Instagram paying attention to user input that has been seeking such an upgrade for months.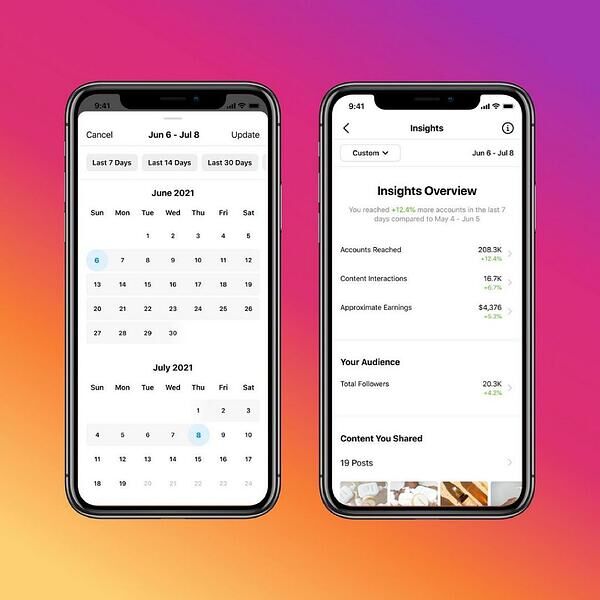 Image Source 
Subscriptions
This year, Instagram introduced Subscriptions, a service that allows producers to charge a monthly fee in exchange for exclusive content and privileges. The way it works is that creators choose a monthly subscription price and a subscribe button appears on their profile. They can provide subscribers with a variety of incentives, such as exclusive live streams and stories. It's part of a larger attempt to help creators make a living and stay active on the platform. This also allows producers to form stronger bonds with their audiences. This new feature arrives on the heels of Twitter's announcement of a similar subscription model, Twitter Blue, and we expect more social media platforms to follow suit.
Image Source 
Visual replies on Reels
Instagram has revealed a new way to respond to Reel comments – with another Reel. You can now generate visual replies to comments on Instagram Reels if you upload short-form films, similar to TikToks reply option. It's a fun and interactive approach to interact with followers and leads, and vice versa.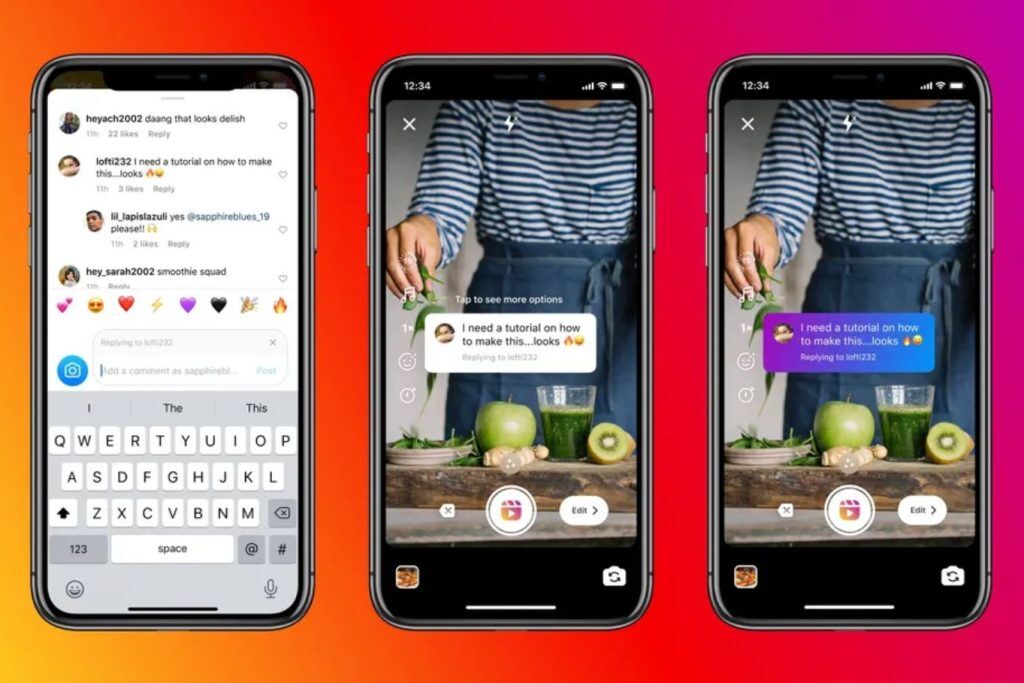 Image Source 
Instagram guides
Instagram is known to be a place where you can easily get trustworthy information and inspiration from your favourite accounts. That's why they have launched Guides, a new way to get suggestions, advice, and other material from your favourite Instagram creators, public figures, organisations, and publishers. When you browse Instagram Guides, you'll find posts and videos handpicked by the creator, along with helpful tips and guidance. You may access the original Instagram post by tapping on the image or video if you want to learn more about a certain post. You can make your own Instagram Guide using one of the three formats below:
Places: Recommend places in and around your city (fantastic for tourism and hospitality businesses).
Products: Recommend some of your favourite products (from your store or others). Products must be available on Instagram Shopping.
Posts: Recommend posts you have created or saved.
You can then add your own captions and commentary to show your audience your brand persona, voice, and tone.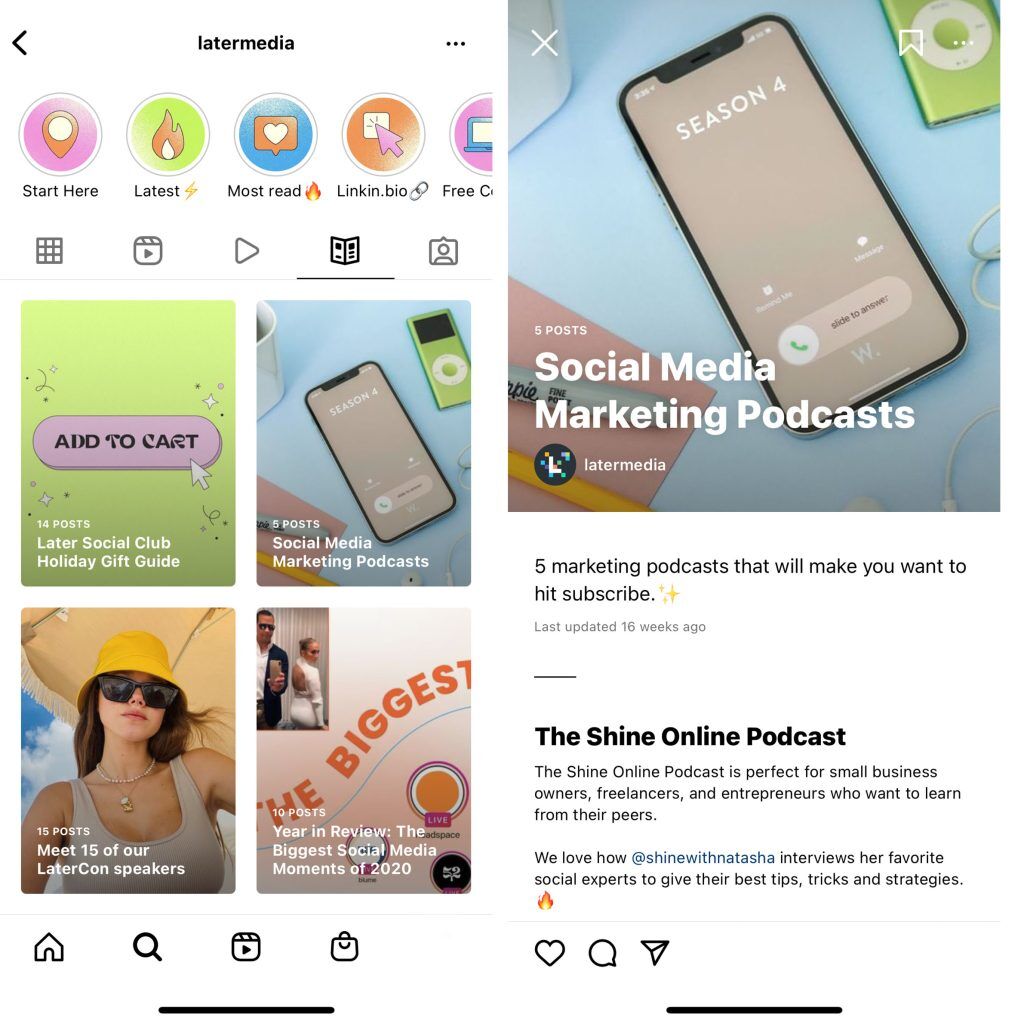 Image Source
Instagram stories highlights
Highlights is a section on your Instagram profile where you can show off more of who you are by sharing stories you've previously posted. Instagram Stories have become an important part of how you express yourself, but there previously wasn't an option to keep them up for longer than 24 hours. By grouping stories you've shared into highlights and featuring them on your profile, you can now more thoroughly express your identity. Stories Highlights display in a new section beneath your bio on your profile and you can have as many as you wish. From the best moments of your life to meeting the team, the interests and activities that matter most to you, or even product demos, have a place right on your profile.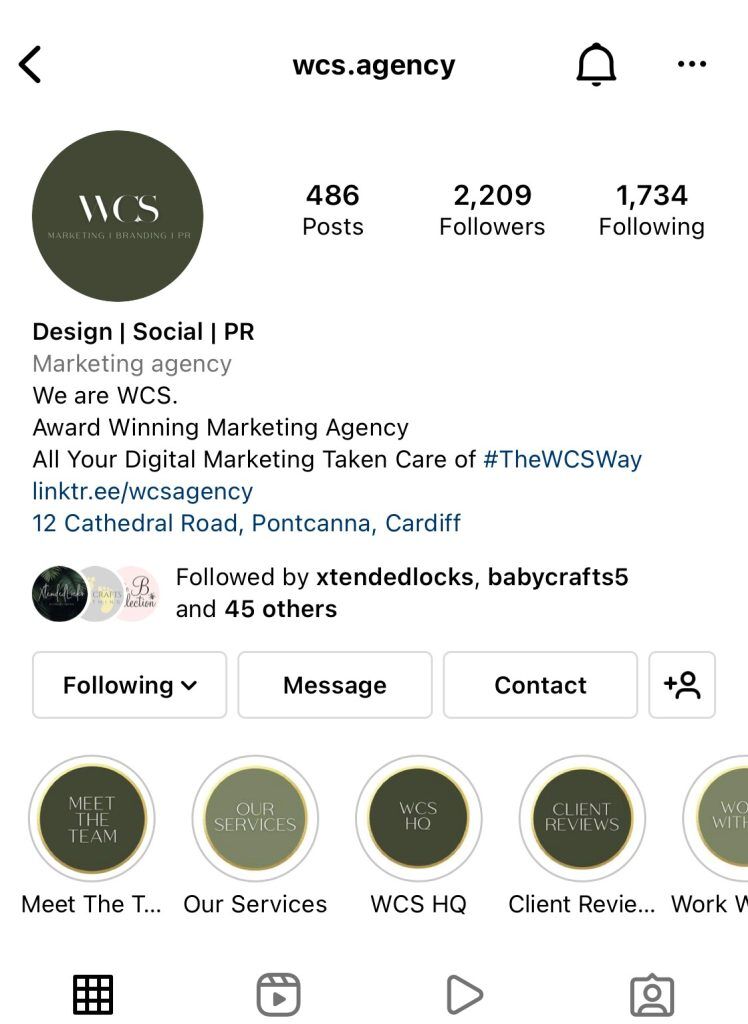 Image Source
Instagram shopping
If you run a business that relies on product sales, Instagram's Shopping features can be ideal for you. Instagram is constantly introducing new e-commerce capabilities in an effort to support businesses on the platform. Businesses can now include shoppable product tags in feed posts and Instagram Stories, as well as have an "Instagram Shop" discovery page on their profile to highlight in-stock products.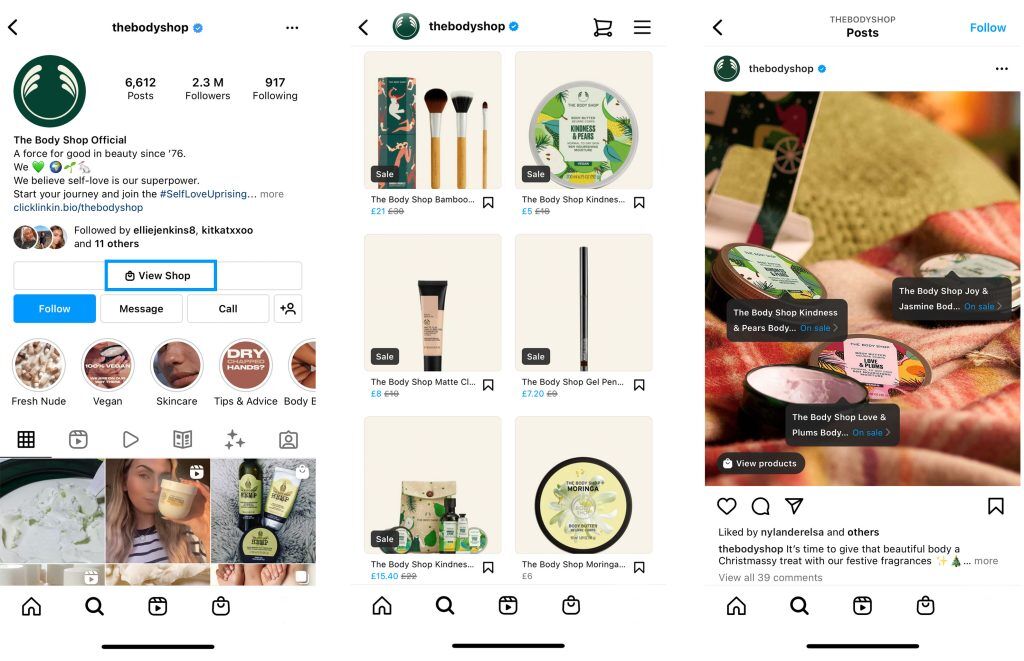 Image Source 
With Instagram Shopping, you can create an interactive, visual shopping experience that develops connections and showcases your products to the world using real-time and pre-made content. Everything begins with you and your shop – your storefront on Instagram.
Your shop: People may browse products and explore collections in your shop, which is where you sell and share your brand story.
Collections: Collections allows you to personalise your store by grouping products into categories like new arrivals, gifts, seasonal trends and more.
Product detail pages (PDP): PDPs contain all relevant information about items in your product catalogue, including pricing and descriptions. They also pull in Instagram content tagged with the products and direct them to your website to finish a transaction.
Checkout on Instagram: Instead of sending consumers to your website from PDPs, Checkout on Instagram allows them to make purchases directly in the app. Checkout is currently available to eligible US business and creator accounts (although, it won't be long before the feature is rolled out here in the UK).
Instagram reels
Instagram reels is a new method to create and discover short, amusing videos on the social media platform. Reels allow you to create fun videos that you can share with your friends or anyone on Instagram. With audio effects and new creative tools, you can record and edit 15-second multi-clip videos. You may share reels with your followers on your Feed, ad if you have a public account, you can also make them available to the rest of the Instagram community via a new space in Explore. Reels in Explore offers anyone to become an Instagram creator and reach new audiences on a global scale. On the left side of your screen, you'll find a selection of creative editing tools to aid in the creation of your reels, including:
Audio: Use the Instagram music library to find a song. You can also utilise your own original audio by making a reel out of it. Your audio will be attributed to you when you post a reel with original audio, and if you have a public account, users can construct reels with your audio by selecting use Audio from your reel.
AR Effects: To record several clips with different effects, choose from the many effects in the effect gallery, which were made by Instagram and creators all over the world.
Timer and Countdown: Set the timer to record any of your clips without touching them. After pressing record, you'll get a 3-2-1 countdown before recording for the duration you choose.
Align: Before recording your next clip, line up elements from the prior one to help create smooth transitions for moments like outfit changes or adding new friends into your reel.
Speed: Choose whether to speed up or slow down a segment of the video or audio you've chosen. This can assist you in keeping a steady beat or creating slow-motion videos.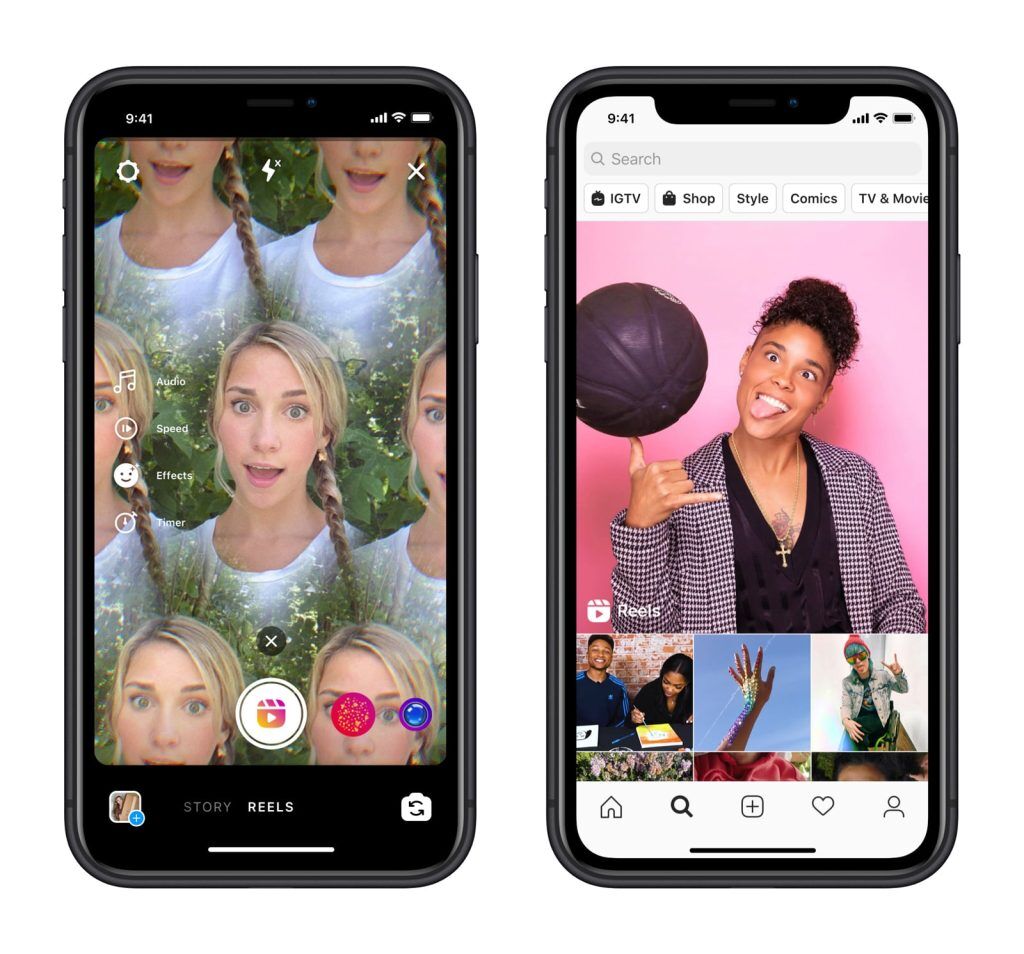 Image Source
Instagram lives
Since its launch, Instagram Live has been a part of the Stories function. Initially met with some scepticism about how to exploit this feature, businesses and marketers have taken to it with great creativity to generate buzz around their products. Users feel a sense of urgency to view your live broadcast before it disappears because of its ephemeral nature. You can take advantage of this. Offer promotions, discounts, or giveaways during your live broadcast, but market it beforehand with short clips or posts to entice your followers to watch. Instagram Live is also a fantastic way to generate leads. You can ask your followers to submit questions ahead of time regarding any topic you'll be talking about during the live broadcast. To simply collect questions, use the ask me anything sticker on Instagram Stories. You can then respond to them in real-time. Your followers will appreciate you mentioning them, and the real-time interaction will increase brand awareness.
Image Source 
Instagram carousel posts
A post featuring multiple photos or videos that can be viewed by swiping or clicking left is known as an Instagram carousel. As a single post on the feed, up to ten photos or videos can be published and shared. Each image in your carousel can have a caption, alt-mage text, a geotag, and account and product tags, just like any other Instagram post. People can also like, comment, and share your carousel post. Instagram carousel posts are one of the most adaptable tools for achieving your Instagram goals. You can increase engagement, reach new audiences, and even drive product sales with the right strategy.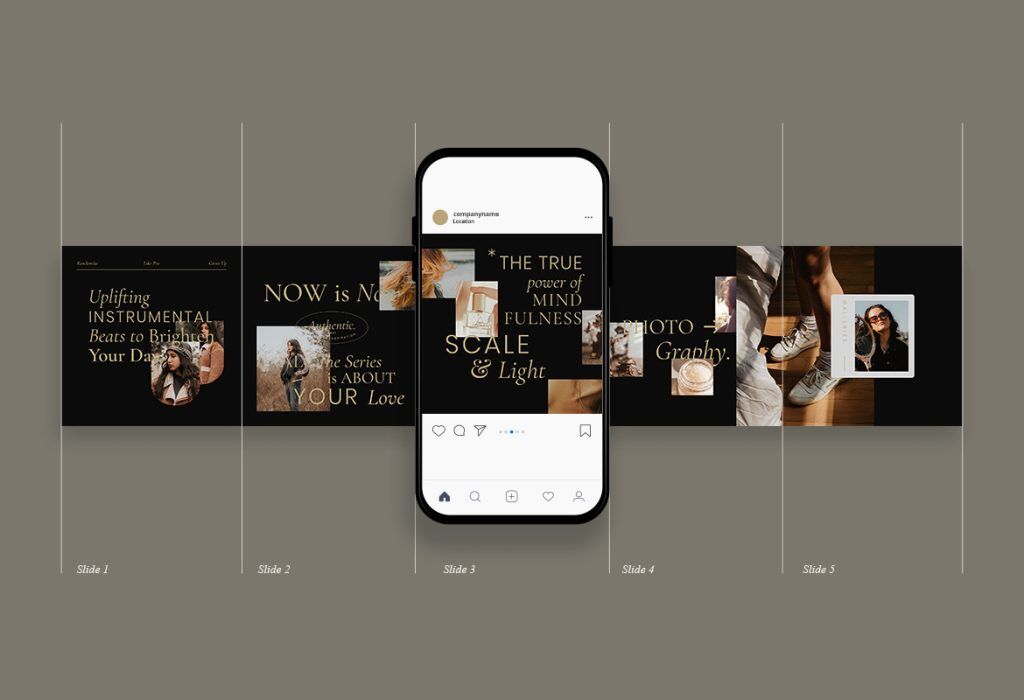 Image Source 
Instagram ads
With accurate targeting and actionable analytics, you can advertise your business and reach out to your next customers with Instagram Ads. With a single tap, you may boost your posts and instantly turn them into an ad. Encourage new ideas and decide who is most important to your business, and then reach out to them using flexible targeting options. Set a budget that works for you as the cost to advertise is up to you. Choose a budget that meets your business objectives and change it as and when it's needed. You can also keep tabs on your ad's performance with insights, which will enable you to learn what works and enhance your ad performance over time. With simple and adaptable tools to help you achieve your objectives, you may turn any post into an ad by boosting it, or you can utilise Ads Manager for more advanced multi-platform campaigns.
Tip: Take advantage of curated formats to create attractive Instagram ads to achieve your goals.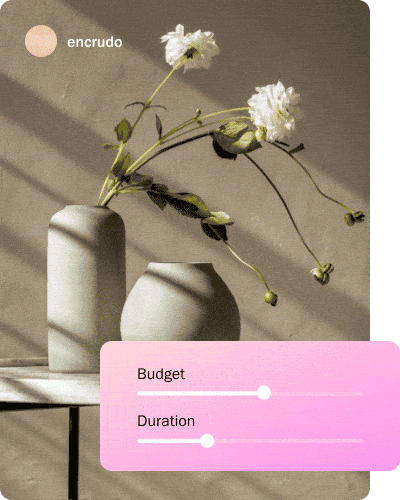 Want to learn more about Instagram marketing? Here's some additional reading:
Getting Started with Instagram Guides
Why Is Social Media Engagement So Important?
Social Media Algorithms: What They Are and How They Work